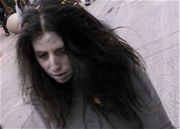 A zombie walk (also known as a zombie march or zombie lurch) is an organized public gathering of two or more people who dress up in zombie costumes. Usually taking place in an urban centre, the participants make their way around the city streets and through shopping malls in a somewhat orderly fashion and often limping their way towards a local cemetery or other public space.
Customs
Promoted primarily through word of mouth and online message boards, zombie walks are an underground activity. During the event participants are encouraged to remain in character as zombies and to communicate only in a manner consistent with zombie behavior. This may include grunting, groaning and slurred, moaning calls for 'brains'. It should be noted that zombie behavior is a hot topic of debate. Purists who draw their definitions from the original Living Dead films will claim that a zombie would never have the ability to call for 'brains' and furthermore that a zombie needs only living (or freshly killed) flesh for its sustenance and not the brain in particular.
History
One of the first zombie walks was held in October 2003, in Toronto, Ontario, with 6 participants.[1] The first widely documented zombie walk occurred in Vancouver, British Columbia|B.C., on August 27, 2005, with over 400 participants. That walk proceeded through the Pacific Centre Mall, travelled on the SkyTrain (referred to for the event as the "SkyBrain" or the "BrainTrain") and continued 35 blocks to Mountain View Cemetery. [2]
On August 19, 2006 Vancouver and San Francisco held simultaneous zombie walks, with zombie walkers surprising people in an Apple Store in San Francisco and a beach in Vancouver.[3]
At the 2006 Vancouver Zombiewalk, an incident occurred in which a driver attempted to push his way through the crowd of zombies that was headed down Robson St. This resulted in some minor injuries among the zombies, severe damage to the car, a number of ICBC insurance claims, and coverage on CBC Television.[4]
In one of the largest zombie walk to date, 894 participants gathered at the Monroeville Mall in Pittsburgh, which served as the set of the classic zombie film Dawn of the Dead, on October 29, 2006.[5] In addition to an attempt to enter the Guinness Book of World Records, the event was a benefit for the Greater Pittsburgh Community Food Bank.
The current Guinness World Record for Largest Gathering of Zombies belongs to the Big Chill festival of Ledbury, United Kingdom, which 4,026 zombies attended on Aug. 9, 2009.
Organizers of Red, White and Dead Zombie Block Party in Fremont, Wash., counted more than 4,200 zombies this year, according to media reports. Guinness World Record officials, however, haven't confirmed those numbers.
For Buy Nothing Day 2006, a crowd of zombie walkers invaded the downtown area of Montreal to take part in a "Shopping Spree of the Dead"[4].
Zombie Walk: San Diego is a group based in Southern California who had it's first zombie walk of 120 people in 2007, and since then has had various other walks. Their walks at the San Diego Comic-Con has garnered much attention, with participants such as George Romero and Brian Posehn, and has been featured with various news coverage[5].
Zombie Walk Bergen (Norway) had their first zombie walk in October 2014 with around 30 participants. It was not the biggest crowd, but yet a great success, so a tradition has been started.
Other sites that have had zombie walk events include: Melbourne, FL, Edmonton, [6],Florida State University, Orlando, Florida[6], University of Central Florida [7], Whitehorse YT, Canada, Louisiana State University[8], Zombie Squad chapter of St. Louis, Missouri [9], Bogotá, Colombia, São Paulo[10], Vancouver, San Francisco, Burlington, Vermont, The University of Minnesota[11], Montréal, Calgary[12], Ottawa, Brisbane, Australia[13], New York City[14], Baltimore[15] , Madrid, Seattle, Porto Alegre[16], Milwaukee, WI[17],Helsinki [18], Bloomington, IN, Washington DC, Halifax, The College of New Jersey, Memphis, TN[19],Atlanta, GA[20] Melbourne, Australia[21] and Adelaide, Australia[22] [7] Oslo Norway, Bergen Norway
Charity events
Organizations like Zombie Squad have used zombie walks to raise awareness for community service events being sponsored such as food drive and blood drives. This is normally associated with blood drives for the American Red Cross as a play on the spread of zombie infection through blood contact as popularized in films such as the 2004 remake of Dawn of the Dead and George A. Romero's Land of the Dead.
See also
References
zombiewalk Helsinki 2007: http://www.taloverkot.fi/mour/
External links