Jurassic World: Dominion Dominates Fandom Wikis - The Loop
Play Sound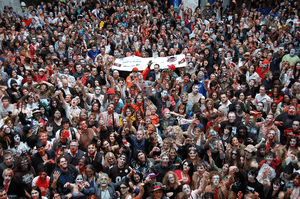 Pittsburgh is often considered to be the most-likely ground-zero for the zombie invasion due to its rich history in both zombie folklore as well as pioneering in the field of actual lab creation of zombies.
History
A lab at the University of Pittsburgh created the first "zombies" ever manufactured in a lab. They killed a dog and brought it back to life. See the New York Times article.
George A. Romero attended college at Carnegie Mellon University in Pittsburgh.
On October 29, 2006, 894 participants set a Guiness World Record for the largest Zombie Walk at the Monroeville Mall in Pittsburgh . Pittsburgh consistently beats their own records for largest Zombie Walk (see below for more info).
Signs (and pop-culture references)
Many zombie films and games have a hat-tip to Pittsburgh or the Pittsburgh area.
In the movie "Zack and Miri Make a Porno" by Kevin Smith, the deck-hockey team is named the "Monroeville Zombies" after the mall (and the impending zombie invasion).
The game Urban Dead is set in Pittsburgh.
The song Early Sunsets Over Monroeville by My Chemical Romance is about zombies... in Pittsburgh.
Dawn of the Dead, was set in and filmed in Pittsburgh (in the Monroeville Mall).
Day of the Dead was filmed primarily in Pittsburgh.
The film Diary of the Dead followed students from the University of Pittsburgh and even though they weren't allowed to film in the real Pittsburgh, they made recreation of many popular icons of the city such as Point State Park.
The game Left 4 Dead doesn't get too specific about where it is for most of the game (while there is a "Mercy Hospital" in Pittsburgh, there are also Mercy Hospitals elsewhere), at the beginning of the level Blood Harvest a sign can be read which clearly states that you are in the Allegheny National Forest which is located just north of Pittsburgh.
The novel version of Resident Evil places Raccoon City in a non-specified spot in Pennsylvania.
The movie Land of the Dead centres on the city, and its citizens, years after the initial Apocalypse
Zombie Walks
As mentioned above, since Pittsburgh embraces its role as the eventual epicenter of the impending zombie-apocalypse, they have Zombie Walks to simulate the eventual movements of the zombie hordes (and for fun).