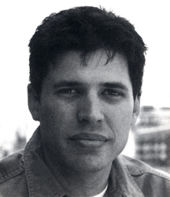 Maximillian "Max" Brooks (born on May 22, 1972 in New York City) is an author and screenwriter.
Books and script writing
From 2001 to 2003, Brooks was a member of the writing team at Saturday Night Live.
Brooks is also the author of The Zombie Survival Guide, published in 2003 (ISBN 1-4000-4962-8). The book explains in great detail how to survive an impending zombie apocalypse. It is "the perfect book to have in the event of a zombie outbreak in your region." The book touches on many pop cultural myths about zombies.
Brooks' book World War Z: An Oral History of the Zombie War, which deals with the war between the human race and zombies, was released on September 12, 2006. Paramount Pictures has acquired the movie rights; Brad Pitt's production company Plan B will produce the film. In the October '06 issue of Fangoria Magazine, Brooks explains that he will not be writing the screenplay for the motion picture, as he feels he is not an accomplished enough screenwriter to "do it right."
Other credits
Brooks has a number of other creative credits. As an actor, he has been seen in Roseanne, Pacific Blue, 7th Heaven, and Melrose Place. He also has a career voicing animation; his voice has been featured in the animated shows Batman Beyond, Buzz Lightyear of Star Command, and Justice League.
Personal life
Brooks is the son of director Mel Brooks and the late actress Anne Bancroft. He is a 1994 graduate of Pitzer College. His wife, Michelle, is a screenwriter, and the couple have a son, Henry.
Max Brooks lives in Los Angeles, CA
External links
Community content is available under
CC-BY-SA
unless otherwise noted.